Launching supastarter for Nuxt 3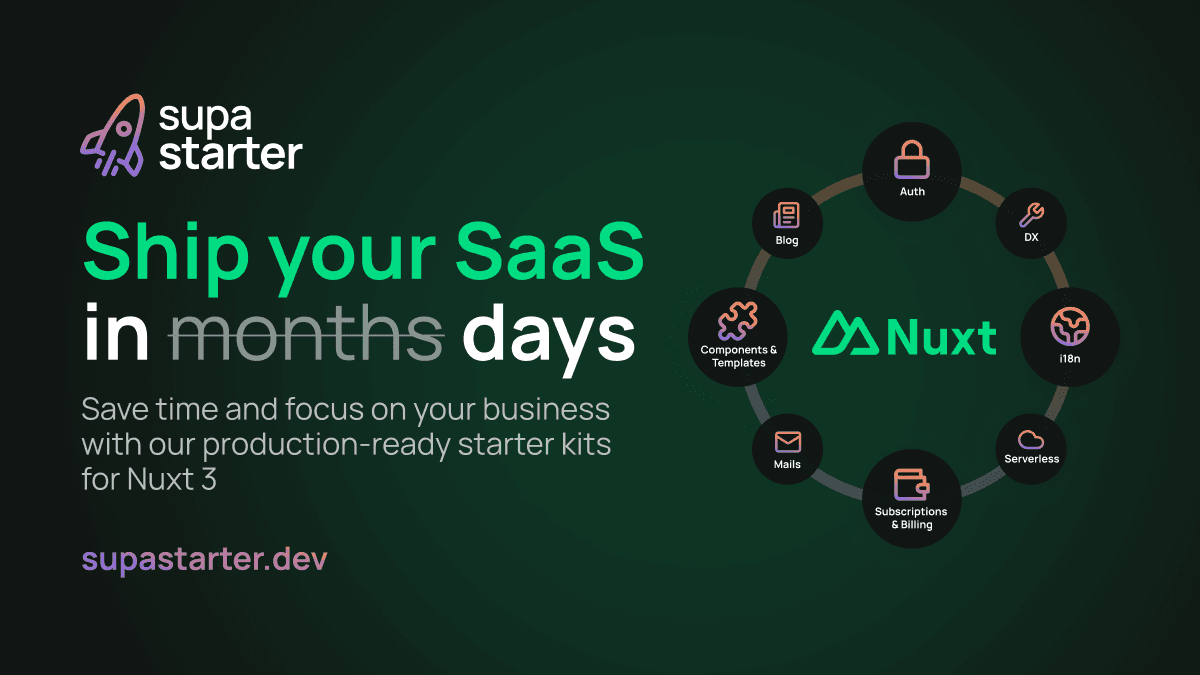 Three months ago, we launched supastarter for Next.js 13. The resonance and feedback was incredible and we are seeing a lot of SaaS founders shipping there SaaS successfully with it already.
Today, we are making the next big step forward and are expanding to the Vue.js ecosystem. We are proud to launch supastarter for Nuxt 3 🚀
It takes the amazing architecture & features of the Next.js version and all the valuable learnings & feedback we got from our 100+ customers and applies it to the Nuxt framework. The result is a an incredibly powerful, scalable & production-ready starter kit that allows you to ship your SaaS in record time.
🔥 Features
supastarter for Nuxt 3 includes:
🔐 Authentication
🌏 i18n
💸 Billing
📧 Mails
🪄 AI integration
🧩 Customizable UI
🔗 API
... and much more!
To learn all about it's features, visit the supastarter for Nuxt 3 page.
🛠️ Stack
We carefully picked the best tools of the Nuxt ecosystem to enable you to build easy and fast, while having full control over your codebase and being able to fully customize the application.
🚀 Launch offer
To celebrate the launch, we are also offering an incredible launch deal, giving the first 25 customers a $100 discount on the starter kit!
To get the discount, use the code NUXTLAUNCHDEAL at the checkout. If you open the checkout from the supastarter for Nuxt 3 page, the code will be automatically applied.
💬 Support
Fabian Beer is the core maintainer of the Nuxt version (huge shoutout to his amazing work at this point 🔥) and will be also providing support in the private Discord community.
📚 Learn more
To learn more about supastarter for Nuxt 3, visit the supastarter for Nuxt 3 page or check out the documentation.
We can't wait to see what amazing SaaS apps you are going to build with supastarter for Nuxt 3! 🚀
See you soon with some more exciting news!
Ship your SaaS in months days
Save time and focus on your business with supastarter, the scalable and production-ready starter kit for your SaaS.
Get started →